As turmeric, yoga and chai become ever more popular in the western world, there are little things that may get lost in this cultural transmission. Looking at the boards of your local Starbucks as a non-Indian, you may think chai is something additional to the tea, like Starbucks may mislead you to think buy calling things 'chai tea latte'. However, chai is a literal translation of 'tea', hence the delicious options offered need not be called 'tea tea'.
As well as it being a literal translation, I must admit it isn't wholly just that. 'Tea' to me conjures the image of a Tetley tea bag dumped into a mug with milk, sipped to keep me warm, and perhaps wake me up. I may enjoy a McVities digestive or custard cream with it, praying it doesn't fall in. Of course I love my tea, but chai is simply on another level.
Chai, oh, aromatic chai, evokes feelings of loved relatives coming over, with somebody asking from the kitchen 'who wants chai?', as I scream with glee 'I do!' It evokes comfort, and as I sip it, all the warming spices of cardamom and cinnamon give both my taste buds and my soul great satisfaction. There's also a bunch of snacks on hand to accompany the chai, be it samosas or Indian crisps or crispy potato bhajia's (which no, is not pronounced as bhajee), as well as a custard cream or two. I may reject the snacks for being too unhealthily about 10 minutes before succumbing to my foodie desires.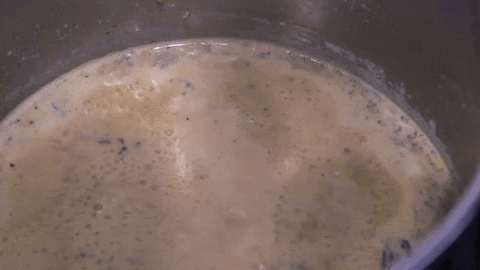 Not only beneficial for my immune system, as the various spices can help prevent colds, it can aid digestion, and relieve aches and pains. I don't think there is a more fragrant hot beverage that is so good for you! Instead of a coffee concoction that will leave you with a sugar rush and cavities, why not relax with a chai that will rejuvenate your mind, body and soul?
You can create variations of this tea to tantalize your taste buds. You can opt for some lemongrass chai when on a health flex, chocolate chai if you're in a more indulgent mood, or if you're feeling a little boujee, add a pinch of saffron to your chai to feel like a Queen. If you're feeling brave enough, make your own chai at home using this recipe or you can even buy ready mixes from the Wagh Bakri company. Just remember, if you're Indian, there will always be one aunties chai that's beats the others out of the park 😉